There are many presses to choose from, not only in different price brackets but different form factors. ?Within the different types of heat press there are extra features to be aware of that may swing your decision to choose one press over another. ?Heat presses can be used for both heat transfer vinyl or for sublimation.
Here we breakdown the types of presses and features available to you to guide you to the best press possible for your needs.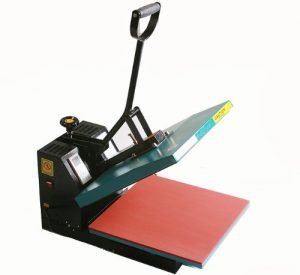 The most common and basic heat press option. ?The press is simply a hinged hotplate that can press flat items like T-Shirts, shorts, pillows, onesies, bags and most other apparel. ?This it the most common type of press you will see in shops offering custom designs.
PROS:
Clamshells take up less space, great for if you have a limited workspace.
Normally cheaper than swing away presses.
CONS:
Some people find the heat source being directly above them an issue when placing their design – fear of being burned due to working directly under the hotplate.
Cannot press other items like hats, plates or mugs
TIPS:
Get a 15″ x 15″ or larger hot plate to ensure you have the maximum pressing area to handle XL++ T-Shirts and larger customized apparel.
To avoid getting burned, remove the red rubber mat from under the press, lay down your design on the mat and then place under the heat source when you are ready to press!
Check out the professional and more expensive models as they have pull out drawers for laying down your design away from the heat source.
Higher price models also offer automatic open functions that release the press from the item when the timer is done – a great time saver when you are working on a batch of designs or interacting with clients.
Check the store for Clam shell presses?and also check our guide to the best clamshells for every budget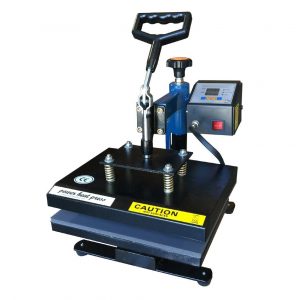 Like the clam shell heat press above the swing away press is a single function press i.e. you can only press flat items such as shirts. ?The difference is that instead of being a simple open and shut, the hot place can swing away from the bottom plate before and after you press.
PROS:
Less burn risk as the heat source is not directly above where you lay your design.
CONS:
Usually swing away presses have smaller hotplates – like 9″ x 12″.
Swing away presses require more space due to the swiveling hot plate.
Swing away presses have more moving parts and the pull down handles have been known to break on cheaper models.
TIPS:
Swing away presses are effectively the same as multi function heat presses BUT without the extra parts – consider what you want to offer in terms of products and don't limit yourself to flat items if you may expand your offerings later on!
Check the store for Swing away presses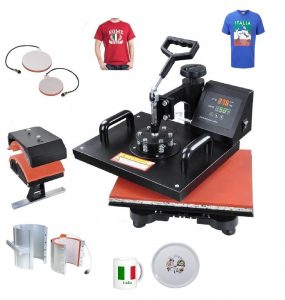 Multi-function presses are the most versatile heat press option. ?Sold as 5 in 1, 6 in 1, even 8 in 1 options you have the ability to change out the heat source to press everything from plates, to hats and mugs.
Each part is removable to give you the flexibility to apply HTV or do sublimation on plates and cups.
PROS:
The most flexible heat press option!
The ability to press non-flat items using the attachments.
CONS:
You have to let the press cool down completely before exchanging attachments.
Cheaper presses seem to have issues with the reliability of interchanging attachments.
Heat plates, like swing away heat presses are usually smaller 9″ x 12″ or "12" x "15" – look for the larger heat plate to allow for pressing larger items like XL+ shirts, pillows and sheets.
Requires more room in your craft space due to the swiveling heat source.
TIPS:
Plan your production runs to save time waiting for the press to cool so you can change attachments!
Check the store for Multi-function presses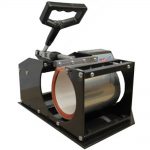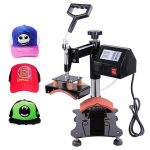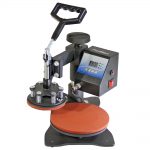 If you specialize in specific product lines you may want to invest in a press to meet those needs.
You can buy single function heat presses for hats, plates, mugs as well as label/tag and logo placement.
PROS:
Best heat press for the specific job in hand!
CONS:
Limited functionality due to single use.