Heat Press Manuals
Here are some links to common heat press manuals.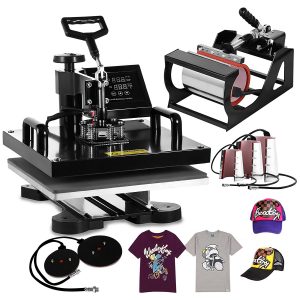 Most of the budget heat presses, from China, are the same rebadged machine. If not the exact same heat press, the designs vary but the concepts for operating the presses remain the same.
Check the guide here to see if it applies to your press? Most presses come with little or no instructions and the basic guides have very poor English.
For the most common heat presses like the Powerpress, FancierStudio, DG press check out this manual that covers the basics for most generic clamshell heat presses.
Generic Clamshell – PowerPress FancierStudio heat press manual
Download this guide for a good basic guide on how to operate your multifunction heat press.
Generic 5 in 1 Heat press manual
This manual covers Generic 5 in 1, 6 in 1, 8 in 1 multi-function heat presses like Vevor, BestEquip, OrangeA, Powerpress, Morphon, Zeny
For guidelines on using Siser Easyweed heat transfer vinyl click here for temperature settings and other application advice.
If you are looking to purchase a press like this check out our store here.
If you would like a fantastic video walkthrough, check out this video that gives a great overview of how to operate the ShareProfit, Vevor, OrangeA or BestEquip presses see how to change plates, etc.
If you are looking for heat transfer vinyl, HTV supplies check here for our latest deals!