So Cricut announced this week the soft launch of their new Design Space 3.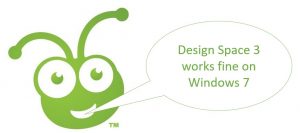 Cricut users have long suffered a multitude of issues with their online based design software.  The main issues stem from the platform the design software was written on – Adobe Flash.  The software has been notorious within the crafting groups for untold headaches and reliability issues with many people complaining and also defecting to the Silhouette Cameo platform which has offline computer-based software rather than an online solution.
Cricut has recognized these performance and stability issues and has addressed them with a complete rewrite of Design Space using the latest web development platforms giving their users a fresh new look and the performance and stability everyone wants and needs to run their crafting businesses.  The new platform does not boast a whole load of new features, I believe these will come in time.
Cricut when announcing their new version put out the system requirements.  They state that Windows 8 and higher will be able to run the new Design Space 3.  This has put many people into panic mode as there are many that have not transitioned from Windows 7, some are still on older versions of Windows.  Many fear to upgrade due to bad press or bad experiences with some Windows 10 upgrades, others simply don't want to change.  Microsoft now also charges for Windows 10 upgrades after the initial free upgrade period BUT you can still upgrade to Windows 10 for free via a special link on Microsoft's accessibility site – see here.  This will help you if you are running Windows 7 or higher.  XP or Vista users, sorry you are out of luck and most likely your hardware is probably below today's standards anyways!
As far as Design Space 3 goes you can still use Windows 7 to run your Cricut.
Issues that may occur are probably due to old versions of Internet Explorer that you may have installed.
It is recommended that you:
a) Run and install all of your Windows updates and ensure you have the latest Internet Explorer.
b) Download Google Chrome, Mozilla Firefox or Apple's Safari and use a more up to date and secure browser for all of your surfing needs.
You can access Cricut Design Space 3 (currently beta) here – https://design.cricut.com
There is also a Feedback link in the new Design Space 3 – use this to send your thoughts and experiences to Cricut and help push for new features you would like to see as well as any problems you experience on the new platform.