What is the best budget heat press?  One of the most Googled questions in the crafting and vinyl communities.
The best budget heat press depends on your wallet and heat pressing needs!  We breakdown a number of options to give you a heat press to meet both your needs and your budget!
General buying advice
There are a ton of cheap heat presses and they come with many challenges and faults.  Starting out as a small business or a hobby crafter you can look to spend around $200 on your first press unless you are going to invest early towards making a business.
Avoid the cheap deals and the too good to be true options that you will find on eBay.
Look for returns conditions and ensure that the company will offer returns including shipping.  Heat presses are extremely heavy and large and that makes them a very awkward and expensive shipping ordeal if you have an issue.  Ensure you have a warranty, if possible extend your warranty to keep your investment covered.
Check reviews and if you are a member of the crafting community on Facebook ask around and get recommendations and feedback!
Best Budget Heat Press – Clamshell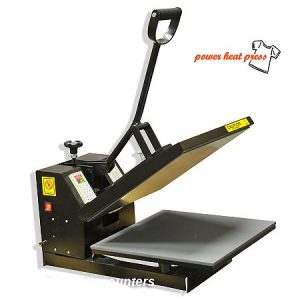 For clamshells we recommend the Powerpress Heat Press
The Powerpress offers the best bang for buck!  It is a 15″x15″ clamshell press that comes in at just over $200.  It is available on Amazon and is their Best Seller press with incredible reviews.  It is one of the most purchased presses within the Facebook crafting communities and you can get plenty of feedback within the Cricut and Silhouette Cameo groups.  You can purchase a 2 year extended warranty from SquareTrade via Amazon for under $20.  This press is excellent value for money and the best in the budget/starter press range if you are looking for a clamshell press.
Best Budget Heat Press – Swing Away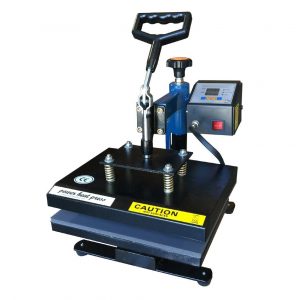 Swing away presses offer the same functionality as the clamshell but offer the advantage of having the heat source on a swivel so that you can swing it away from the base allowing you to work on your design before and after pressing.
The disadvantage of the swing away vs. the clamshell press is that the swing arm requires more space to function.
Check out the Powerpress and Zeny options, they offer both 15″x15″ and 16″x20″ options.
Best budget Heat Press – 5 in 1 Multi Function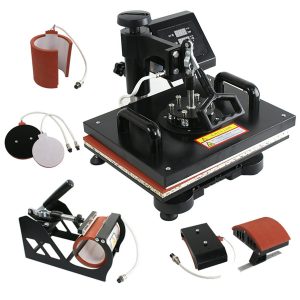 If you are looking for a swing away / multi-function press there are a couple of options available to you.
Around the $200-$300 price range check out the Zeny or iGlobalBuy
5 in 1 swing away heat presses.
You will notice with the swing away presses that the platten tends to be a smaller 12″x15″ surface vs. the clamshell presses which mainly come in 15″x15″ form factor.
The swing away presses come with the various attachments for hats, plates and mugs.  These attachments simply unscrew and screw in place.  The top heat plate is also held in with screws which simply loosen and allow you to swap out once cooled off.  The base also slides out so you can switch out for the hat/plate bases.
Visit our Store and check out all of the heat press deals on offer to suit all budget types.  We also have Heat Transfer Vinyl (HTV) as well as recommended accessories to help you with your pressing needs.